DDCommunity Reflections
The DDCommunity blog has been relatively quiet during 2018, but we have definitely been busy! Our last posts highlighted the DDCommunity move and the Extravaganza which were certainly our most noteworthy events of the year.
Challenge Accepted!
But at the end of 2017 we issued the 2018 DDCommunity Challenge to read through The One Year NLT Chronological Bible with DDCommunity in 2018. We had about 20 ladies join the challenge in 2 Thursday groups (morning and evening), and who knows how many others who completed reading through the Bible in 2018 but did not join our discussion groups.
Our participants ranged in age from 14 years old to 84 years of age. We started with the foundations of spiritual maturity, namely "Connect to God's Word" and the 2nd stage "Fear the Lord." Each week we asked,
"What did I learn about God?"
"What difference does that make in my life?"
Everyone learned from the insights that each person shared as the Holy Spirit enlightened their hearts and minds, and we wrestled with pressing questions as we sought to find Christ relevant to every area of life.
The Word of God provides the central foremost means of encountering Christ. God's Word in effect postures us exactly in the position to achieve the greatest intimacy with Him. Through the Scriptures, the Living God conveys the heart of His will directly into our souls. Thus, the more of His Word we know, the greater our spiritual vocabulary grows enabling us to be more capable of hearing from and conversing with Him.

—J. Kirk Lewis
DDCommunity Resolutions
In 2019 we invite you to join another challenge to read through the ESV Bible. For this challenge we will consider the 3rd stage of spiritual development, "Experience Forgiveness of Sin" and the 4th stage, "Desire Righteousness" by daily asking the questions,
"What did I learn about sin?"
"What difference does that make in my life?"
In anticipation of asking these questions throughout the year ahead, I have already found myself convicted about sin in consideration of God's holiness which has moved me to desire righteousness in a deeper way. While it seems a daunting task to be convicted by God's perspective of sin on a daily basis, I earnestly desire a deeper relationship with Him as a result of experiencing forgiveness of sin.
"Be Holy as I Am Holy."
The source of the command is the heart of God. The purpose of the command is to establish union and communion between God and his people. It is the extraordinary beckoning of God for us to be with him. God's grace takes the initiative.


Because his holiness may not be modified, it is we who must come, we who must accommodate him, not he us. This statement is extraordinary in its inclusivity. God would have us as he is. Far from being exclusive and excluding, he makes room for us.


It is the call to come higher, come closer. Alec Motyer said, "Holiness is the most intimately divine word the Bible possesses." And thus the call to be holy as he is holy is the call to the most intimate union with God. Imitation of God has intimacy with God as the goal.


Here is hope—"Be holy as I am holy" is an open door into the heart of God. It says that our sin has not closed the door on God, has not forever ruined the relationship; we can be with him, even be like him.

—The Pursuit of the Holy: A Divine Invitation
The ESV Gospel Transformation Bible
Through the years I've challenged our blog readers to read through the Bible. In Got Plans blog post I first presented The ESV Gospel Transformation Bible. At the end of the Connect to God's Word blog post, I shared how much I loved reading through The ESV Gospel Transformation Bible in 2016. "The commentary notes continuously point to the Gospel thread throughout the Bible – a thrilling perspective!"
As we proceed through our reading of the ESV Bible in 2019, we will be following the reading plan included in The Gospel Transformation Bible and we will also be reading The Gospel Transformation Bible Notes.
The goal of the Gospel Transformation Bible is twofold: (1) to enable readers to understand that the whole Bible is a unified message of the gospel of God's grace culminating in Christ Jesus, and (2) to help believers apply this good news to their everyday lives in a heart-transforming way. Our hope is that, as Christians throughout the world learn to see the message of salvation by grace unfolding throughout Scripture, they will respond to God with greater love, faithfulness, and power.

—The Gospel Transformation Bible Introduction
Unfortunately, the print version is currently unavailable, but the ebook Notes are still available through various outlets such as Christianbook.com.
If you prefer Amazon, may we take this moment to offer you a quick reminder that if you choose Desperately Dependent Community as your preferred charity when you shop through AmazonSmile, DDC receives benefits every time you shop on Amazon. We would deeply appreciate your support!

I chose the Logos Bible Software version since I have been growing my Logos Library.
As a side note, you can Get Started with Logos Bible Software for FREE! If you have not already discovered this wonderful Bible study tool, I HIGHLY recommend it!! When you sign up to receive their special offers, you will also have the ability to add a new resource to your Library each month! Yes, you can pour a lot of money into your Logos Bible Software, but you don't have to! The FREE version offers a lot of resources! Check it out!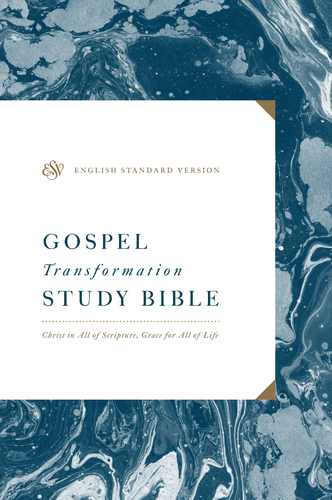 Crossway will be releasing a new version of the print version of the ESV Gospel Transformation Bible (updated) on February 28, 2019. We will look forward to having the ESV Bible text and the ESV Gospel Transformation Notes (updated) combined in the same book by spring. Christianbook.com is currently offering Gospel Transformation Bible (updated) at a discounted pre-order price.
If you don't own a copy of the ESV translation, you can find a FREE digital version with an audio option on YouVersion.
DDCommunity Request
If you would like to join us in the 2019 DDCommunity Challenge, reserve your spot in our Thursday morning or Thursday evening group and/or Contact Us with your contact information, and we will be sure to include you in our special Facebook Group for participants. We will also be making special provisions for those who participate in the Thursday groups and would like a print version of the ESV Gospel Transformation Bible Notes before the updated version is released. So be sure to let us know you will be joining us!
May you enjoy God's richest blessings in the new year as you connect to Him and His Word in a deeper way!
We would LOVE to read comments from those who did complete the 2018 DDCommunity Challenge!
Quick Links
FREE ESV digital Bible including audio