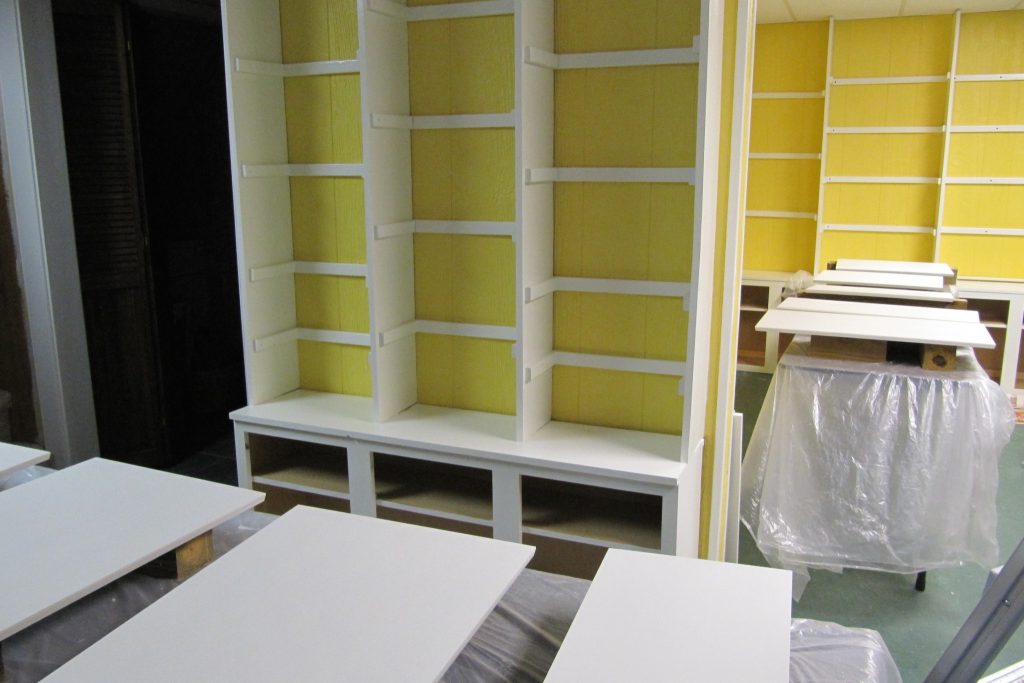 Christ Is Relevant to the Mundane Painting Projects!
Can you find Christ relevant to a long grueling painting project? We had to! Do you care to hear the story?
It has been a LONG summer! In some ways too long. In other ways, not long enough. Last fall, we primed ourselves for some major home remodeling. One project led to another, and Kirk suggested that we paint our downstairs in May. It must be noted from the outset that I do not delight in painting! I do it, but I am not like my friend, Tricia, who joyfully tells me each year how much she is looking forward to her vacation time so that she can repaint all the rooms in her home, and she says it with a broad smile and means it too!! Several other things are important for you to know. The downstairs was our garage, which had been reallocated to our den/guestroom/crafting area. The walls were covered with unfinished barn siding, and cabinets and bookshelves were stained to achieve a rustic look that coordinated with our wood-burning stove.
Let's Paint Downstairs
Translating, "Let's paint downstairs" means relocating my entire stash of crafting supplies throughout the house and dismantling all the shelves to access the walls to paint them. It also means that everything that had a wood look would be painted either yellow or white. Yep, I said yellow – bright, June Day yellow. That was Kirk's choice! I like happy colors, so I wasn't going to argue about him straying from his usually dull, excuse me, muted pallet to embrace the warmth of June Day, but I did question him repeatedly! Okay, deep breath, we can do this.
I knew it would be a grueling task, but I honestly had no idea of the path ahead of us! After long conversations with our friendly Sherwin Williams paint consultants, we purchased many gallons of primer and paint and bravely (actually, it was timidly) embarked on the adventure.
But There's More
Did I mention that as we were working on the downstairs, a contractor was also installing a new entryway to replace the rotting door ensemble? Really, the reason for this portion of the remodel was to prevent downpours from flooding our basement. We hoped that our front entrance would be reinstated in a few short days and a new driveway installed to divert the water from the house. The driveway was torn out, and construction commenced in full force.
After Kirk spent hours sanding the cabinets and shelves, I struggled with the painting process. I grumbled and complained that it didn't look good and I couldn't achieve the desired results. Another consultation with Sherwin Williams left them shaking their heads and saying they couldn't make it work either. Really? Yep, I've said that word a lot this summer! So Kirk sanded some more to remove what I labored so many hours to accomplish. I was filled with grumbling and complaining.
Google Has the Answer
Our kids constantly remind us to "Google it" to find solutions, so I took my problem to Google. The bloggers recommended Benjamin Moore paint undercoated with a special primer. I purchased Benjamin Moore paint and the special primer and conducted various sample tests on a cabinet door. The results were superior, but I was still nervous. Ultimately we settled on that particular paint without fully considering how a dry time of 16 hours between coats would impact our lives. Would you like to do the math to determine how many days it takes to prime and put at least two coats of paint on each side of 48 cabinet doors and drawers, 41 shelves, and all the cabinet bases in a limited indoor space? (I tried it outside, but the birds bombarded my first attempts, and the 90-100 degree heat and rain caused additional complications.) I'll give you a hint – the answer is TOO long!
How Is Christ Relevant to Painting?
"Lord, how are you relevant to this?" In the midst of my grumbling and complaining, He gently called me to spend my painting time with Him. God wanted to transform my painting time into an extended, focused prayer time alone with Him. Pray for THAT long? As my painting days drew into weeks, I found myself eager to begin my painting downstairs so that I could have those hours with Him. I blared my playlist of Desperate Dependency related music as He reminded me of His presence and reassured me of His plans for our lives. He set me aside to bring my clients, my burdens, and my dreams before Him and to listen for His tender words of direction.
Many days Sarah Young's Jesus Calling devotional echoed relevant truths such as:
"Self-pity is a slimy, bottomless pit."
"Rest in My presence."
"Find freedom through seeking to please Me above all else."
"Bring Me the sacrifice of your time."
"Hold My hand, and walk joyously with Me through this day."
"When things seem to be going all wrong, stop and affirm your trust in Me."
"I speak to you continually. My nature is to communicate, though not always in words…You can find Me in each moment when you have eyes that see and ears that hear."
In regards to painting, the summer has been too long. But regarding my time with the Lord, it has not been long enough. I think I should go prayer paint some more while I still wait for our new driveway and decide how to finish the entryway!
Insight Journal
How do you find Christ relevant to your everyday, nitty-gritty tasks?
---