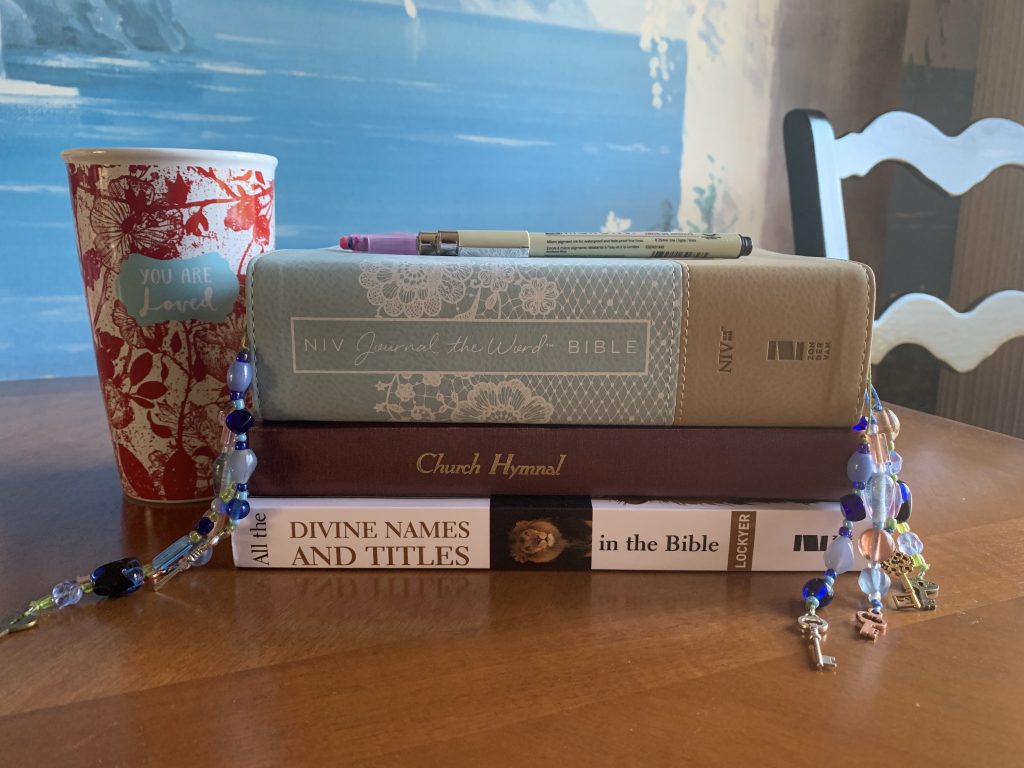 Become Committed to Worship
Would you like to get to know God to become committed to worship? Join the 2022 DDCommunity Bible Study Challenge as we embark on this journey. We will spend the year reading through the Bible to become familiar with the names of God, Jesus, the Holy Spirit, and their attributes as well.
Blessed are those who have learned to acclaim you,
who walk in the light of your presence, Lord.

Psalm 89:15 NIV
I must admit, as I [Melanie] have been preparing for this study, I am constantly overwhelmed! How can we accomplish such a daunting task? Reading through the Bible in a year is a grand undertaking all by itself. But to focus on all the divine names in the Bible too???? With great undertakings come great rewards, right? And I am looking forward to the great reward of knowing the One who loves me most in a more intimate way! Also, as I grow to know Him better, I will worship Him more completely! And not only will I know Him more intimately and worship Him more completely, but I will also commit my life to worship Him!
It will be good for those servants whose master finds them watching when he comes. Truly I tell you, he will dress himself to serve, will have them recline at the table and will come and wait on them.

Luke 12:37 NIV
What's the plan to get to know God to become committed to worship?
When the path is challenging, it's best to join with others for added support and encouragement. So, I'm inviting you to join us on the journey. We are offering two Zoom discussion groups for ladies. Beginning January 6, 2022, Thursday morning (10:00 – noon) and Thursday evening (7:00 – 9:00), groups will process the insights we glean throughout the week. We will also share the Bible reading plan and notes with any men who would like to accept the challenge.
We will be reading from the NIV translation (2011) of the Bible. Daily readings from the Old Testament, New Testament, Psalms, and Proverbs will guide us through God's Word in 2022. I highly recommend that you purchase a journaling version to have a place to keep all your notes. I chose the NIV Journal the Word, Large Print, Leathersoft, Teal/Tan (pictured above). There are several variations of this Bible, but I especially like the large print and thicker pages. Also, Herbert Lockyer provides a valuable resource, "All the Divine Names and Titles in the Bible," that we will use as a reference.
2022 DDC Bible Study Challenge Focus Questions
With the 2018 Challenge, we started with spiritual maturity foundations, namely, Connect to God's Word and the 2nd step, Fear the Lord. For the 2019 Challenge, we considered the 3rd step of spiritual development, Experience Forgiveness of Sin, and the 4th step, Desire Righteousness. In 2020 we grew to Depend on God while we matured through Being Disciplined. In the 2021 Challenge, we focused on the 7th step, Be Humble, and the 8th step, Be a Peacemaker. For the 2022 Challenge to get to know God to become committed to worship, we will reach for the 9th step, Enjoy worship, and the top step, Be Committed.
How will we do that? With each new encounter of a divine name or attribute, we will complete the following statements:
Based on the character of God, who am I in relation to Him? And therefore, how should I be responding to Him? By December 2022, we will have a more complete picture of the God we worship and a more complete understanding of our identity in Christ.
Are you up for the challenge?
Sign up to join the DDCommunity 2022 Bible Study Challenge. Please be sure to let us know if you would like to join the Thursday MORNING group (10:00 – noon) or the Thursday EVENING group (7:00 – 9:00). Of course, you are welcome to Contact Us to ask any questions you have before you commit!
We look forward to growing with you in 2022 through the DDC Bible Study Challenge.
---
If you select from any of the Amazon links, we earn from qualifying purchases at no extra cost to you as an Amazon Associate.
---