Practically, how can I put God first in my life?
How can I practically put God first in my life? We may understand the concept that God should have no rival in our lives, but how is that accomplished? I really want to be a good Christian, so how do I live like my life is committed to God?
One of our college professors, Mr. Chuck Hubler, challenged us to consider the concept of Christian priorities. (By the way, if you know how to connect with Chuck Hubler, please let us know! We would love to thank him for his great foundations in Christian counseling!) If we followed "But seek first the kingdom of God and His righteousness, and all these things shall be added to you" (Matthew 6:33 NKJV), how would we order our lives? God first? Spouse second? Children third? Job fourth? Everything else falls into place after that?
Does God get the majority of your time?
OK. Since there are 24 hours in each day, then if I have God in first place, He gets 12.5 hours of my day. After all, that's more than half. My job generally requires 8 hours a day, and since my spouse has a higher rank than my job, my spouse should have at least 9 hours, and the kids get 8.5 hours. Hmm… That adds up to 38 hours in a day, but I also need sleep!
So let's make family second. That includes both my spouse and my kids, and they would get more than my job—8.5 hours per day, which equals 29 hours. Still no sleep. . . .
Let's see. God has to be before my job. My job gets 8 hours, so my family gets 8.5 hours, and God gets 9 hours. Now I'm down to 25.5 hours. I sure am tired. . . .
Well, when I'm working, I'm working for my family, so my 8 hours on the job can count as family time, and God would still be in first place if I gave Him 8.5 hours. Horray! I can get 7.5 hours of sleep, and God can be first!
What am I going to do with my 8.5 hours with God?
God is first in my life when He is central.
For all the years we have tried to follow that theory, it sounded good, but it's impossible to do! In actuality, the Greek word translated "first" in Matthew 6:33 means "'above all' . . . which corresponds to the central position which orientation to the kingdom of God has in the proclamation of Jesus. Indeed, πρῶτον is so exclusive here that it carries the implication of 'only.'"1 How in the world do you do that?
If God were to be above all in our lives with the only central position, He would be everything—in the center.
With God in the center of our lives, everything we do involves Him, and He influences everything we do.
As He lives in and through us, we operate through His enablement to magnify and glorify Him.
Put God first in your life by turning from your selfish ways.
Matthew, Mark, and Luke recount what Jesus had to say about becoming a follower of Christ.
Then he said to the crowd, "If any of you wants to be my follower, you must turn from your selfish ways, take up your cross daily, and follow me."

Luke 9:23 NLT; see also Matthew 16:24; Mark 8:34
When we deny ourselves and turn from our selfish ways, we are to give up anything that pulls us away from God. If we find ourselves caught in the dilemma of deciding between God's ways and anything contrary to God's guidelines, then we are to oppose whatever is tempting us to choose a different path. Remember, God is not trying to hide His plan from you. You can follow step by step what He has revealed in His Word. As we learn to pay attention to the established truths, we can more readily hear what His Spirit whispers to our souls.
Put God first in your life by making the necessary sacrifices.
To follow Him, we are required to make the necessary sacrifices. We cannot continue to counterfeit the fruit of the Spirit while rejecting God's design for love, joy, and peace. God created us. We cannot conjure up anything better than what He knows we need. We must offer up all our self-contrived dreams that are not His desires for us.
To persist in our selfish ambition and vain conceit, we evidence our desire to live independently from Him. The results and consequences of such actions will be fulfilled as He promised.
But because you are stubborn and refuse to turn from your sin, you are storing up terrible punishment for yourself. For a day of anger is coming, when God's righteous judgment will be revealed. He will judge everyone according to what they have done. He will give eternal life to those who keep on doing good, seeking after the glory and honor and immortality that God offers. But he will pour out his anger and wrath on those who live for themselves, who refuse to obey the truth and instead live lives of wickedness.

Romans 2:5–8 NLT
Put God first in your life by depending on Him.
Hebrews 4:1–3 elaborates on God's promises for a life that is desperately dependent on Him.
God's promise of entering his rest still stands, so we ought to tremble with fear that some of you might fail to experience it. For this good news—that God has prepared this rest—has been announced to us just as it was to them. But it did them no good because they didn't share the faith of those who listened to God. For only we who believe can enter his rest. As for the others, God said,

"In my anger I took an oath:
'They will never enter my place of rest,'"

even though this rest has been ready since he made the world.

Hebrews 4:1–3 NLT
So how do you make God first in your life?
In summary, in order to make God first in your life, allow God to be central in your life. Everything we do should involve God, and He should influence everything we do. Your life will evidence that God is first in your life when you turn from your selfish ways, make the necessary sacrifices, and desperately depend on God.
Psalm 143 Prayer Pattern promotes spiritual growth.
Psalm 143 Prayer Pattern promotes dependency and spiritual growth. As you learn How to Be a Good Christian, How to Put God First in Your Life, and How to Grow in Spiritual Maturity, use this Psalm to petition God's guidance and assistance. Use Psalms Prayer Patterns to pour out your heart to God while acknowledging your weakness and His strength as you grow deeper in your relationship with Him.
Insight Journal
I know I am doing what God wants me to when:
---
This post is a continuation of How to Be a Good Christian. Also, be sure to read How to Grow in Spiritual Maturity.
---
POST A COMMENT about your insights on your journey toward desperate dependency! We would love to connect with you!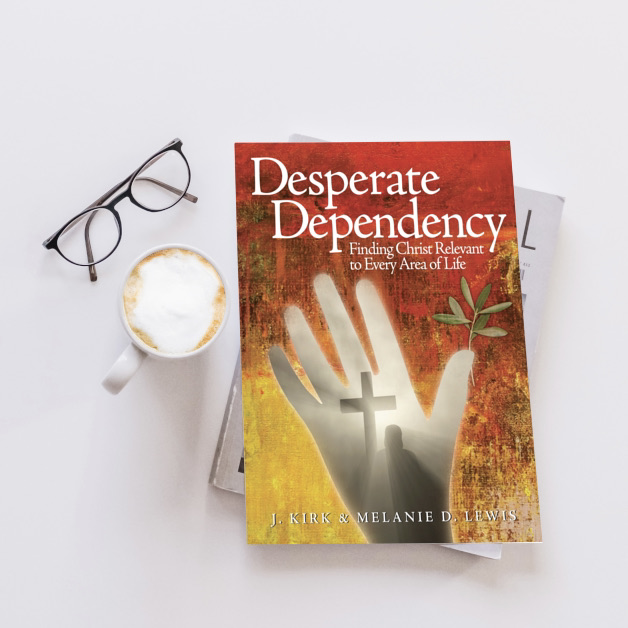 If you would like to be reminded how Christ is relevant to every area of life, subscribe to our email list. You will be asked to verify your request by jumping through a few hoops, but that is for your safety!
---
1Gerhard Kittel, et al., eds., Theological Dictionary of the New Testament (electronic ed.; Grand Rapids, MI: Eerdmans, 1964–c1976), 6:870.