What is my job as a good Christian?
Are you confused about how to be a good Christian? Perhaps you have been inundated with all the lists you need to check off to be a good Christian. You want to do right, but you don't know how. If I allow God to be in control of my life, what is my job?
Bottom line? It is our job to be in a relationship with Jesus Christ. Sorry, but I can't give you a checklist on that one any more than I can give you a checklist that verifies that you are doing a good job as a husband or a wife. Sure, we may have expectations for our relationship with our spouse like, "Tell me you love me at least once a day"; "Take out the trash"; "Have dinner on the table at 6:00"; "Bring home a paycheck that will pay the bills"; and so forth. But if your spouse could place a checkmark by each of those tasks, does that guarantee a close relationship?
Can you please explain how to be a good Christian?
In Mark 12, the Sadducees and Pharisees were debating about all the rules, regulations, and requirements of the law. There were 613 commands in the Torah (Genesis–Deuteronomy). One of the teachers of the law asked Jesus, "Of all the commandments, which is the most important?" (12:28 NLT). Restated, "Can You please explain what we're supposed to be doing?"
Jesus answered, "The most important command is this: 'Listen, people of Israel! The Lord our God, he is the only Lord. Love the Lord your God. Love him with all you heart, all your soul, all your mind, and all your strength.' The second most important command is this: 'Love your neighbor as you love yourself.' These two commands are the most important commands."

Mark 12:29–31 ICB
Do everything for the glory of God.
Paul describes our job from another perspective.
Therefore, whether you eat or drink, or whatever you do, do all to the glory of God.

1 Corinthians 10:31 NKJV
Personally, I (Melanie) had a difficult time with that verse. That all sounds well and good, but how do you "do all to the glory of God"? So I considered Psalm 34:3 for another point of view.
Oh, magnify the Lord with me, and let us exalt His name together.

Psalm 34:3 NKJV
How do I glorify God?
Suppose I were to hand you a magnifying glass and ask you to describe it. What would you say? After you put it up to your eye and moved it in and out a few times, your first response may be, "It makes things bigger." If I challenged you to keep going with your description, you might add statements such as these:
It helps you see better.
Things are easier to see.
You can see more details.
It makes things appear closer.
You can see things you never saw before.
In science class, we were introduced to a microscope, which is also used to magnify. During lab time, a few glass slides were offered for investigation. With amazement, we examined cells, hair, tadpoles, and a myriad of other items. The classroom filled with exclamations of "Wow!" "Cool!" "You gotta come see this!" "I never knew that was there!" The inquisitive would examine one item after another with astonishment and awe.
When we follow the exhortation given in Psalm 34:3 to "magnify the Lord," we function as a magnifying glass so the watching world can look through the lens of our lives to view the splendor, brightness, magnificence, excellence, majesty1 (glory) of God. We are to be a tool to allow others to
perceive God as bigger than ever
see God better
make God easier to see
see God in more detail
make God appear closer
view God like never before
Then those around us will exclaim, "Wow!" "Cool!" "You gotta come see this!" "I never knew God was like that!" The inquisitive will investigate one life situation after another through the lens of our lives.
Do everything in the name of Jesus.
Paul adds a vantage point for whatever we do.
And whatever you do in word or deed, do all in the name of the Lord Jesus, giving thanks to God the Father through Him.

Colossians 3:17 NKJV
This is not adding to our job requirements but delimiting our process. When we do all "in the name of Jesus," we represent every aspect that is incorporated in the mentioning, hearing, or remembering of His name.
For example, if I mentioned the name "Kirk," immediately your mind would be flooded with images, concepts, quotes, and a variety of memories that revolve around your icon of Kirk. Certainly, there are behaviors that are not consistent with the name of Kirk. You could never imagine Kirk owning a pet tarantula, for example, since he hates spiders!
When we operate "in the name of Jesus," we are to be consistent with every truth that is incorporated in His attributes. As the Holy Spirit lives in and through us, we will consistently "do all in the name of the Lord Jesus" because we are not operating out of our own resources but are overflowing with His abundant supply. What an astonishing view of God the world would see if all Christians magnified the glory of God in such a fashion!
Do you have the gift of speaking? Then speak as though God himself were speaking through you. Do you have the gift of helping others? Do it with all the strength and energy that God supplies. Then everything you do will bring glory to God through Jesus Christ. All glory and power to him forever and ever! Amen.

1 Peter 4:11 NLT
Pray in Jesus' name.
Jesus also speaks of bringing glory to God when we ask anything in Jesus' name.
"You can ask for anything in my name, and I will do it, so that the Son can bring glory to the Father. Yes, ask me for anything in my name, and I will do it!"

John 14:13–14 NLT
Praying in Jesus' name is remembering all the character traits of God, all the ways He has worked in the past, and what a difference it makes that Jesus died and paid for our sins. When we conduct our lives according to everything we know about His character, our expectations will be in line with the reality of who He is, and our hopes will not be disappointed.
Seek to understand God to be a good Christian.
Too often, we are disappointed with God because He did not respond in a way we thought He should. We place expectations on Him that He has never promised to fulfill. And then, in our frustration and disillusionment, we whine that God is distant and uncaring. It is true that His ways are incomprehensible, but for some reason, we think we have Him all figured out.
Oh, how great are God's riches and wisdom and knowledge! How impossible it is for us to understand his decisions and his ways!

Romans 11:33 NLT
"For I know the plans I have for you," says the Lord. "They are plans for good and not for disaster, to give you a future and a hope. In those days when you pray, I will listen. If you look for me wholeheartedly, you will find me. I will be found by you," says the Lord.

Jeremiah 29:11–14 NLT
God does not want to hide from you. He desires an intimate relationship with you. So then, why do we have to seek? God doesn't work like we expect Him to. We find Him and His answers in the most unlikely places.
I publicly proclaim bold promises.
I do not whisper obscurities in some dark corner.
I would not have told the people of Israel to seek me
if I could not be found.
I, the Lord, speak only what is true
and declare only what is right.

Isaiah 45:19 NLT
God does not want to hide from you.
My (Melanie) Opi (German grandfather) always delighted in the fun tradition of an Easter egg hunt for all ages. For him, Easter was the second most festive holiday of the year. It was celebrated like a mini-Christmas. "Eggs" were hidden for all in attendance. The designated "Easter Bunny" would hide the treasures throughout the yard. Of course, chocolates and other treats could be discovered, but gifts were also strategically located. Some were addressed to a specific recipient; others were fair game to all. If you found an egg with a name other than your own on it, you would quietly leave it in its place for the designated owner.
When no more loot could be found, eager hunters would sit to evaluate their bounty. The Easter Bunny would invariably oversee and notice that some prizes had not been claimed. Others would comment, "I saw an egg for you still sitting somewhere." Enthusiastically, the hunter would begin his search again. If the prize still remained undiscovered, an offer of assistance was made.
The assistance was most often orchestrated by my Opi, who was a choir director. The hunter was instructed to begin heading in one direction or another. The singing from the "choir" would become louder or softer depending on whether the hunter was getting closer or farther from the destination. All were elated when the trophy was acquired.
A good Christian lives in relationship with God.
This story illustrates the idea that God does not hide His will from us because He does not want us to know His plans. He desires for us to be active participants in relating to Him.
It is God's privilege to conceal things
and the king's privilege to discover them.

Proverbs 25:2 NLT
There is great reward in pursuing a goal and attaining what the giver intended for us to have. We must simply look in the right place.
If any of you lacks wisdom, he should ask God, who gives generously to all without finding fault, and it will be given to him. But when he asks, he must believe and not doubt, because he who doubts is like a wave of the sea, blown and tossed by the wind. That man should not think he will receive anything from the Lord; he is a double-minded man, unstable in all he does.

James 1:5–8 NIV
In summary, in order to be a good Christian, we must actively pursue a relationship with the God who desires to be in relationship with us. Make God look wonderful by the way you live your life with love. Live your life as an example of Jesus. Pray to understand how to live as an example of Jesus. Seek God to understand His plan for your life. All in all, live in relationship with God to be a good Christian.
Use Psalm 143 Prayer Pattern to promote spiritual growth.
Psalm 143 Prayer Pattern promotes dependency and spiritual growth. As you learn How to Be a Good Christian, How to Put God First in Your Life, and How to Grow in Spiritual Maturity, use this Psalm to petition God's guidance and assistance. Use Psalms Prayer Patterns to pour out your heart to God while acknowledging your weakness and His strength as you grow deeper in your relationship with Him.
Insight Journal
To magnify/glorify God I must:
I know God wants me to:
---
To read more about how to be a good Christian, be sure to read How to Put God First in My Life and How to Grow in Spiritual Maturity.
---
POST A COMMENT about your insights on your journey toward spiritual maturity! We would love to connect with you!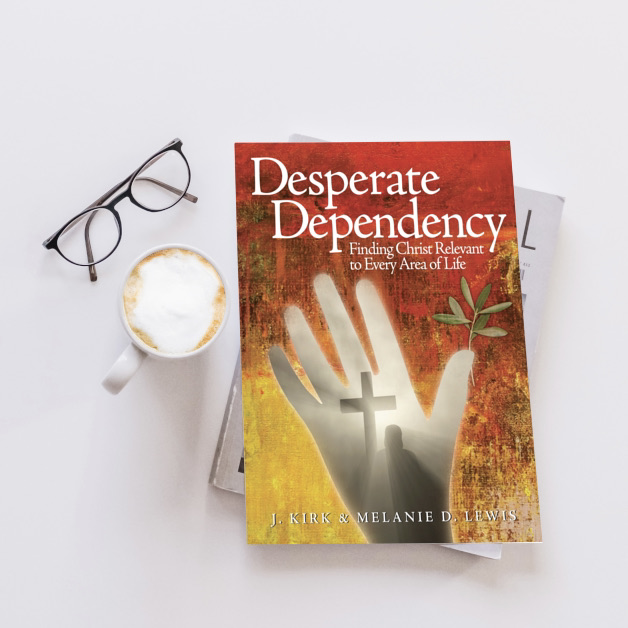 ---
If you would like to be reminded how Christ is relevant to every area of life, subscribe to our email list. You will be asked to verify your request by jumping through a few hoops, but that is for your safety!
---
1Strong, Concordance, G1391.