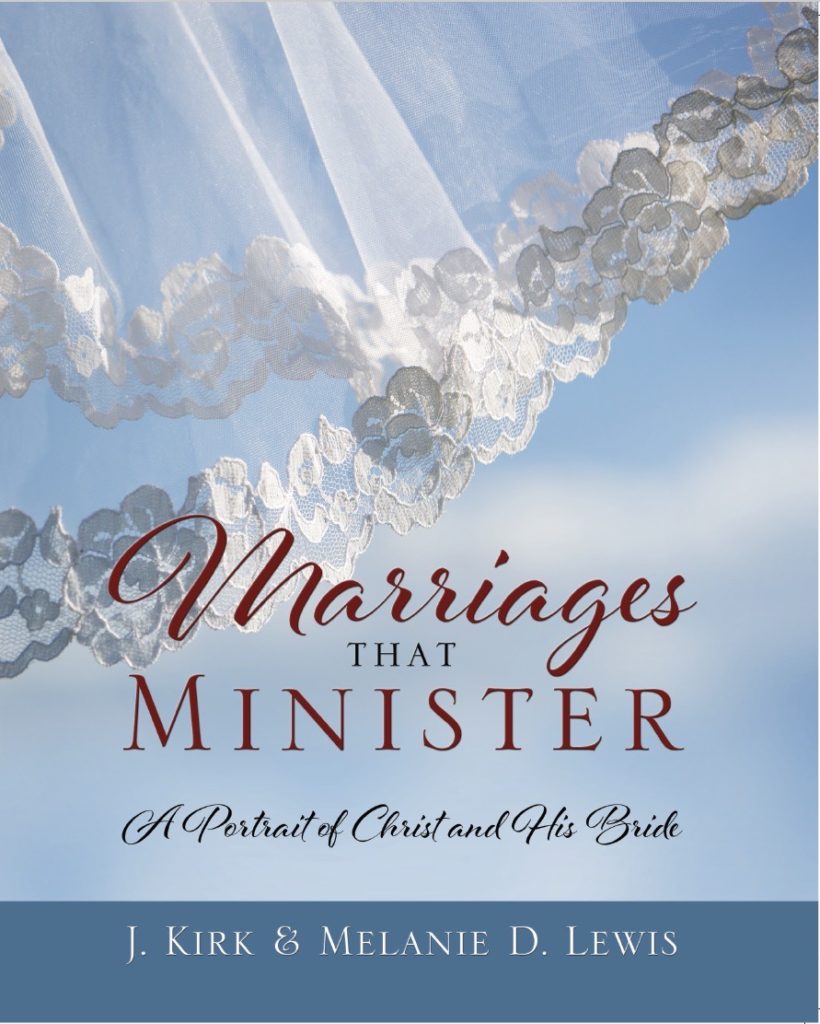 Marriages that Minister: A Portrait of Christ and His Bride
Marriages that Minister: A Portrait of Christ and His Bride invites you to find Christ relevant to your marriage. The old adage states, "A picture is worth a thousand words." God designed marriage to be a portrait of Christ and His relationship with His bride, the church. When the watching world views the picture of your marriage, what are the words that it conveys?
Marriages that Minister will challenge you to think differently about your marriage. We are not talking about what can be accomplished by human effort. It is an invitation for you to participate in what is humanly impossible yet divinely possible. We will explore the relationship that Christ has with His bride and therefore how we should be relating to Him, not how a man can make a woman feel good or how a wife can make her husband happy. We are offering you transformation through an intimate relationship with Jesus Christ that will completely change the composition of your wedding portrait so that it becomes a picture of Christ and His bride.
God uses marriage to perfect us into His image
God uses marriage as a means to perfect us into His image. A marriage that incorporates the godly surrendered soul of a husband and the holy yielded spirit of a wife with the unsurpassable blessings of an unfailing God braids in triunity, forming a bond that withstands the fiery darts of the wicked one. When a marriage matures in finding Christ relevant, it becomes a dramatic depiction of a masterpiece marriage that ministers.
Do we really need another marriage book?
Another marriage book? You may think, "I know all this stuff!" "I've heard all this before." The story of the original marriage certainly is well known. But how has it impacted your marriage? Sure, you may have repeatedly heard Ephesians 5:31–32, "Therefore a man shall leave his father and mother and hold fast to his wife, and the two shall become one flesh. This mystery is profound, and I am saying that it refers to Christ and the church" (ESV). But what difference do these verses make in your everyday coexistence with your spouse?
Why did you get married?
The apostle Paul speaks of the profound mystery of marriage and certainly many people wonder why they got married. Why did you get married? Of the many surveys we have conducted with this question, few responded that they got married in order to reveal God's mystery of marriage to the watching world. But what does that even mean? So how in the world are we supposed to do that?
Our society has been lulled into complacency, and unfortunately the Christian community has followed suit. A committed relationship with Christ is not the automatic result of saying a sinner's prayer any more than a committed marriage is the automatic outcome of a wedding ceremony. Too often when we strive to make our marriages better, we only seek ways to make life more comfortable for ourselves instead of attempting to understand God's design for marriage.
Marriages does not make you complete
With the proclamation of "I do" comes the blissful belief that we are now complete with everything we need to cope with the sundry doubts and insecurities of life. Culturally we have been indoctrinated to believe that the saving grace of marriage is its ability to deliver us from the prospect of not being lovable, from the pain of insignificance, and from the plight of insecurity. What great disappointment arises when we learn that marriage has really blended and magnified our combined issues resulting in much larger issues.
Find Christ relevant to your marriage
Our first work entitled Desperate Dependency: Finding Christ Relevant to Every Area of Life laid the foundation for us to build Marriages that Minister. As we challenge readers to find Christ relevant in every area of life through Desperate Dependency, we now challenge you to find Christ relevant in every area of marriage.
Marriages that Minister also explores the concept of Christian identity
Embedded within the content of Marriages that Minister you will also find the concept of the iProcess. "Say what?" My identity in Christ defines the perimeters of my identity as a husband or a wife within the context of marriage. Identity is God's perspective of me. Intimacy embraces God's perspective of me, thereby drawing me into spiritual connections. On the basis of my intimate identity, industry compels me to action. Once I am convinced of my identity, I can be connected in intimacy and be compelled to industry to accomplish His good pleasure. This is what we call the iProcess.
The concepts incorporated within the iProcess apply to all believers, not just married couples.
Who is Marriages that Minister written for?
In case you are wondering, Marriages that Minister is specifically written with the target audience of Christian leaders in mind. The unique challenges of ministry place a great strain on leadership marriages. Therefore, Marriages that Minister offers reminders of biblical truth to strengthen weary marriages. However, weary or not, Marriages that Minister is also written for discerning Christians who desire to grow deeper in their marriage. Additionally, the majority of Christian marriage counseling is conducted by Christian leaders. Consequently, we designed Marriages that Minister as a resource to be used in marriage counseling.
---
Choose to grow deeper
DDCommunity Institute offers a variety of classes to promote your spiritual maturity.
---
---
Marriages that Minister
Table of Contents
Below you will find the Table of Contents for Marriages that Minister: A Portrait of Christ and His Bride. Click the links to connect to some of the content we have posted on our blog.
1. Essence: Designed by Christ
2. Essentials: Because of Christ
3. Election: Chosen by Christ
4. Exemplification: Love like Christ
5. Exaltation: Set Apart for Christ
6. Evaluation: Standing before Christ
7. Endurance: Faithful to Christ
8. Enablement: Power through Christ
9. Edification: Strengthened in Christ
10. Enlightenment: Showing Forth Christ
11. Encouragement: Praising Christ
12. Eternity: Anticipating Christ
13. Expectations: Be like Christ
---
Please help us!
The internet changed the way people make decisions. Now we decide based on what others write in reviews. Please help others choose Marriages that Minister based on your reviews.
Thank you!
---
---